Chop & Wok
Growth through brand development
Chop & Wok is a growing pan asian wok based take away business with six franchises throughout the Birmingham area.
Make an enquiry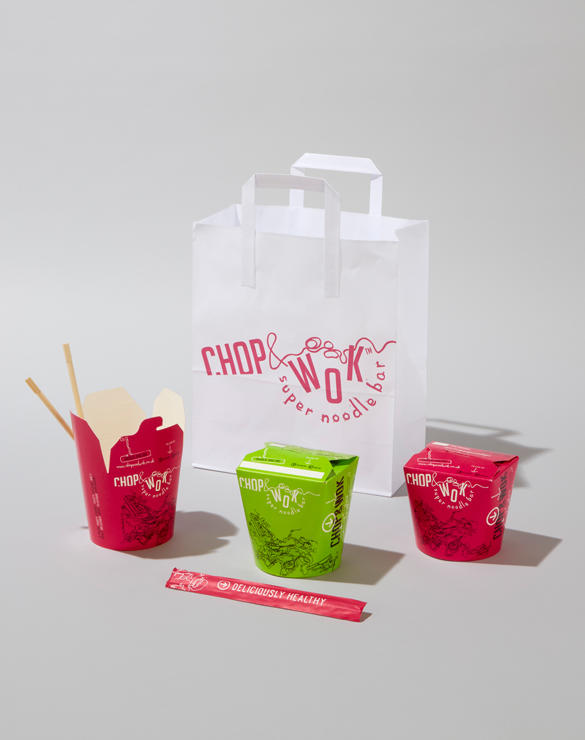 The challenge
Chop & Wok wanted to streamline their supply of their everyday consumables and work with a supply partner to develop a core range of packaging and labelling solutions.
The key requirements in the selection of a cohesive consumable range included:
Ensuring products were competitively priced.
Packaging was suitable for a variety of food combinations.
Developing the right mix of standard and branded products within the range.
Continuity of supply for franchises to order for next day delivery.
Our solution
We have worked with the Chop & Wok management team throughout the evolvement of their business, continuously supporting them to develop a cohesive product range consumables including: everyday consumables, off the shelf food packaging and bespoke branded noodle tubs; chop sticks labels and paper bags.
The branded packaging is sourced internationally using our preferred quality assured supply chain to ensure product and print quality and competitive pricing.
The pre-selected product range is stocked in our extensive warehouse facility in Sheffield and available for franchisees to order for next day delivery.
The product range is available to order through the Formkraft online ordering portal which has been developed to reflect Chop & Wok's branding, specific product range and service delivery requirements.